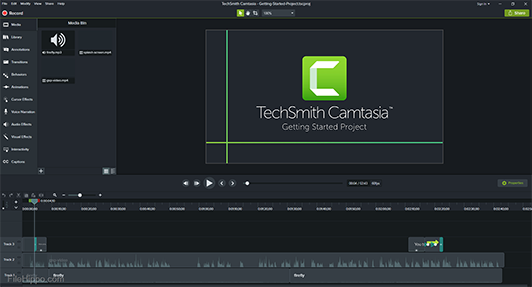 Details
Subjects Covered
Prerequisites
Setup Requirements
Details
Course Details
In this Camtasia 2019 training course, you will learn to create screen recordings and videos that can be shared and accessed by learners using desktop computers, laptops, tablets, and other mobile devices. Your content can be hosted on a web server, Learning Management System, YouTube, Vimeo, TechSmith's Screencast.com, and more. You will learn how to include recordings of existing PowerPoint presentations or software demonstrations created directly on your computer using the Camtasia Recorder, and you will add animations, voiceover audio, graphics, music, annotations, closed captions, and quizzes to a project.
Subjects Covered
Camtasia 2019
Exploring Camtasia

The Camtasia Interface
The Media Bin and Library
The Canvas and Timeline
Recording Videos

Rehearsals
Recording Screen Actions
Annotations
Recording Effects
Adding Media

Videos
Images
Multi-Track Projects
Cursor Effects
Groups, Annotations, Behaviors, and Transitions

Groups
Annotations
Themes
Behaviors
Transitions
Audio

Importing Audio Media
Voice Narration
Splitting Media
Audio Editing
Sharing

Standalone Videos
Web Videos
Extending, Zooming, Trimming, and Interactivity

Extending
Zoom Animations
Markers
Hotspots
Quizzes and Reporting Results

Quizzes
Emailing Quiz Results
Reporting Data to an LMS
PowerPoint and Captions

PowerPoint to Camtasia
Closed Captions
Prerequisites
Before Taking this Class
None.
Setup Requirements
Software/Setup For this Class
TechSmith Camtasia 2019 or higher
Onsite Training
Do you have five (5) or more people needing this class and want us to deliver it at your location?