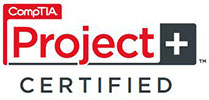 Project+ Training
3 days (10:00 AM - 5:00 PM Eastern)
$1,295.00
Register for a live online class.
Details
Subjects Covered
Prerequisites
Setup Requirements
Details
Course Details
This course prepares you for the current CompTIA Project+ certification exam. It covers the full range of project management concepts necessary to plan and implement projects. You take an in-depth look at all phases of the project life-cycle: initiating, planning, executing, monitoring and closing a project. In addition to managing business concerns such as scope, cost, and time, you learn about creating project plans, evaluating project performance, and managing change and quality.
Subjects Covered
CompTIA Project+ Certification
Project management overview

Introduction to project management
IT project management
Different types of organizational structures

Project initiation

Stakeholder requirements
Business case
Requirements analysis
Key roles and responsibilities
The project charter
Stakeholder consensus and approval

Project planning, estimating and scheduling

Planning phase
Defining scope
Creating a work breakdown structure
Developing time and cost estimates
Creating a budget
The project team
The project schedule

Creating project plans

The communications management plan
The procurement management plan
The risk management plan
The quality management plan
The project management plan

Managing people

Managing the project team
Relationship with customer and sponsor

Managing cost and evaluating project performance

Tracking
Performance reporting

Managing change and quality

Managing change
Managing quality

Project closure
Certification exam objectives map

Comprehensive exam objectives

Case Studies

Billing System Conversion Project
ABC Financials Product Database
Case study tables
Prerequisites
Before Taking this Class
None.
Setup Requirements
Software/Setup For this Class
None.
Onsite Training
Do you have five (5) or more people needing this class and want us to deliver it at your location?