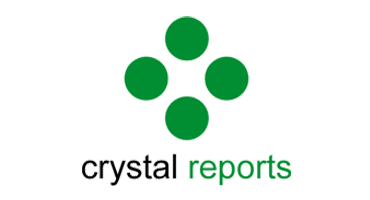 SAP Crystal Reports - Introduction Training
2 days (10:00 AM - 5:00 PM Eastern)
$750.00
No open dates. Contact us to schedule.
Details
Subjects Covered
Prerequisites
Setup Requirements
Details
Course Details
This course teaches the basic features and functions of SAP Crystal Reports. Students will explore the program environment and learn how to open, navigate, create, modify, and save reports. They will learn the fundamentals of formatting report objects, of sorting and selecting records, and creating groups and summaries. They will also learn how to create simple formulas and functions. Finally, students will work with experts and wizards, and learn how to export reports to various file formats.
Subjects Covered
SAP Crystal Reports - Introduction
Creating a Simple Report

Starting Crystal Reports
Starting a New Report
Choosing a Data Source
Main Components of the Design Window
Exploring the Toolbars
Managing Resources with Explorers
Placing Fields on the Report
Selecting and Sizing Objects
Browsing Field Data
Moving and Aligning Objects
Using Guides and Guidelines to Move and Align Objects
Creating Text Objects
Saving the Report
Previewing the Report
Using the Status Bar
Getting Help

Formatting Features

Using the Template Expert
Formatting Objects
Format Painter
Inserting Lines and Boxes
Inserting Graphics
Working with Page Commands
Working with Text Objects
Formatting Part or All of an Object
Inserting Special Fields

Selecting Specific Records from the Database

Filter Types of the Select Expert
Database Filtering with the Select Expert
Selecting Records with Multiple Criteria
Viewing and Editing the Select Formula
Case Sensitive vs. Case Insensitive
Record Selection Formula Templates

Grouping and Sorting Data

When and Why to Group Records
Creating a Group
Group and Sort Direction
Customize Group Name Field
Modifying Groups
Creating Multiple Groups in a Report
Using the Preview Panel
Using the Group Tree to Navigate the Report
Reordering Groups
Sorting Records within a Group
Using the Sort Control
Summarizing Groups
Grouping Data in Date/Time Intervals
Calculating Percentages
Ordering Groups Based on Their Subtotals Using Group Sort Expert

Combining Multiple Tables

Understanding Tables, Records, and Fields
Learning about Linking
Adding Multiple Tables to a Report

Creating and Using Formulas

Understanding Crystal Formula Syntax
About the Formula Workshop
Using the Formula Workshop
Using the Formula Editor
Performing Simple Number Calculations
Manipulating Dates with Formulas
Creating Boolean (True/False) Formulas
Creating String Formulas
Using Bookmarks to Navigate Formulas

Conditional Formatting

Formatting Sections
Formatting Sections Conditionally
Conditionally Formatting Fields

Creating Summary Reports and Charts

Creating a Summary Report
Applying the Drill-Down Feature
Applying the DrillDownGroupLevel
Producing Charts
Editing Charts
Formatting Charts

Exporting Reports within Your Organization

Understanding Export Formats and Destinations
Using the PDF Format for Crystal Reports
HTML Preview
Exporting to Windows Applications
Exporting to a Report Definition Format

Using the Report Wizards

What are the Report Wizards?
Create a Report Using the Standard Report Creation Wizard
Prerequisites
Before Taking this Class
None.
Setup Requirements
Software/Setup For this Class
SAP Crystal Reports Professional
Microsoft Office
Onsite Training
Do you have five (5) or more people needing this class and want us to deliver it at your location?