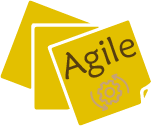 Agile Fundamentals Training
1 day (10:00 AM - 5:00 PM Eastern)
$375.00
Register for a live online class.
Details
Subjects Covered
Prerequisites
Setup Requirements
Details
Course Details
This course gives attendees a broad overview of Agile, focusing on the popular Scrum framework as an example of how Agile can transform organizational projects. You will learn key agile principles, the end-to-end agile process, and how and why agile works to consider and discuss possible implementation with your organization.
Subjects Covered
Agile Fundamentals
Getting Started with Agile


Traditional Project Management (Waterfall)
What is Agile?
Iterative and Incremental Development Strategies
Differences Between Waterfall and Agile
The History of Agile
The Agile Manifesto
Frameworks / Methodologies of Agile

Using the Scrum Framework

The Scrum Framework
Scrum Roles

Product Owner
Scrum Master
Scrum Team

History of Chickens and Pigs
Scrum Team Breakdown

Stakeholders

Stakeholder Identification
Stakeholder Responsibilities
Types of Stakeholders
Factors Affecting Stakeholder Involvement

Customers

The Scrum Process
What is the Product Backlog?
User Stories
Sprint Planning
Sprint Characteristics
Closure

Managing Projects with Scrum


Estimating User Stories
Ideal Days
Story Pointing
Product Backlog - Estimating Stories Example
Product Poker
Daily Scrum Meeting
Burn-down Chart
Progress Charts
Metrics for Tracking
Best Practices to Manage Scrum
Product Owner: Proxy or Facilitator?

Success Factors to Implement Agile

Resolve Risks in Agile Projects
Integration Issues
Hardening Issues
Blocking Issues
Myths about Agile
Agile and CMMI
Agile and PMBOK
Micro-Management with Agile
Estimation Challenges
Growth Opportunities
Scrum of Scrums
The Benefits of Agile
Prerequisites
Before Taking this Class
None.
Setup Requirements
Software/Setup For this Class
None.
Onsite Training
Do you have five (5) or more people needing this class and want us to deliver it at your location?