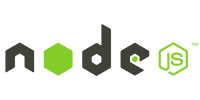 Developing Web Applications Using Node.js Training
2 days (10:00 AM - 5:00 PM Eastern)
$750.00
No open dates. Contact us to schedule.
Details
Subjects Covered
Prerequisites
Setup Requirements
Details
Course Details
Developing Web Applications Using NodeJS is a two-day instructor-led course that teaches students how to build server-side web applications using open source JavaScript frameworks and powered by NodeJS.
Students will learn how to create and test modern web applications and APIs using open-source JavaScript modules, NodeJS, and MongoDB.
Subjects Covered
Developing Web Applications Using Node.js
Setting up Node.js and Other Essentials

Installing Node.js and NPM
Launching Node.js Scripts
Node.js Basics and Syntax
Node.js Core Modules
Handy Node.js Utilities

Node Package Manager

Installing a Package
Global Packages
Updating Packages
Creating Packages

Using Express.js to Create Node.js Web Apps

Installing Express.js
Express.js Scaffolding
Setting Up Folders and Configuration

TDD and BDD

Installing and Understanding Mocha
TDD with Assert
BDD with Expect.js

Persistence with MongoDB and Mongoskin

Installing and Running MongoDB
Data Manipulation from the Mongo Console
Native MongoDB Driver for Node.js
Main Mongoskin Methods

Boosting Data with Mongoose ORM Library

Installing Mongoose
Mongoose Schemas
Mongoose Models
Relationships and Joins
Express.js + Mongoose = True MVC

Using Sessions and OAuth in Node.js Apps

Authorization with Express.js
Token-Based Authentication
Session-Based Authentication
Node.js OAuth

Building Node.js REST API Servers

RESTful API Basics
Test Coverage with Mocha and Superagent
REST API Server Implementation with Express and Mongoose
Prerequisites
Before Taking this Class
Advanced JavaScript Programming
Setup Requirements
Software/Setup For this Class
Text Editor
Onsite Training
Do you have five (5) or more people needing this class and want us to deliver it at your location?