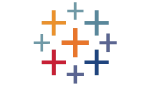 Tableau Desktop Introduction Training
2 days (10:00 AM - 5:00 PM Eastern)
$750.00
Register for a live online class.
Details
Subjects Covered
Prerequisites
Setup Requirements
Details
Course Details
This interactive course teaches you the skills necessary to produce professional visualizations in Tableau. You learn how to connect to data, use the Tableau interface, create basic calculations, represent data using crosstabs, geographic maps, heat maps, tree maps, pie and bar charts, dual axes and combined charts, highlight tables, and scatter plots, build dashboards and stories, and share visualizations.
This course includes valuable examples and hands-on labs and is designed to prepare you for
the Desktop Specialist Exam.
Subjects Covered
Understanding the Tableau Environment

Touring the Tableau Workspace
Understanding Shelves and Cards
Navigating Workbooks and Sheets
Understanding Field Types (Dimensions and Measures)

Connecting to Data

Understanding Supported Connectors
Setting up Data Sources
Editing Data Sources
Refreshing Data Sources
Cleaning Data with Data Interpreter

Organizing, Filtering, and Sorting

Creating Folders
Creating Groups
Creating Hierarchies
Creating Filters
Sorting Data
Creating Basic Visualizations

Creating Text Tables
Using Totals and Aggregation
Handling NULL and Other Special Values
Creating Pie Charts

Saving, Publishing, and Sharing

Saving Data Sources and Visualizations
Publishing Data Sources and Visualizations
Sharing Workbooks for Collaboration

Adding Visual Details

Working with Marks
Annotating Views
Formatting Titles, Captions, Tooltips, and Legends
Formatting Fields and Field Labels
Formatting Numbers and Null Values
Resizing Tables and Cells

Creating Crosstabs

Creating Highlight Tables
Creating Heat Maps
Working with Date Fields

Understanding Discrete and Continuous Time
Using Custom Dates and Hierarchies
Working with Multiple Measures in Views
Creating Combined Axis Charts

Mapping Data Geographically

Understanding Mapping Concepts
Working with Location Data
Creating a Simple Map
Creating Geographic Layers
Showing Quantitative Values
Customizing a Map

Using Calculations

Creating a Calculated Field
Understanding Calculations
Formatting Calculations
Working with Functions
Working with Aggregations
Applying Quick Table Calculations

Spotting Trends

Adding Trend Lines
Using Drop Lines

Creating Dashboards

Building a Dashboard
Refining a Dashboard
Creating Dashboards for Different Devices

Creating Stories

Creating a Story
Enhancing Stories with Tooltips
Prerequisites
Before Taking this Class
None
Setup Requirements
Software/Setup For this Class
Tableau Desktop
Onsite Training
Do you have five (5) or more people needing this class and want us to deliver it at your location?