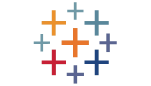 Tableau Prep Training
2 days (10:00 AM - 5:00 PM Eastern)
$750.00
Register for a live online class.
Details
Subjects Covered
Prerequisites
Setup Requirements
Details
Course Details
Tableau Prep Builder provides a modern approach to data preparation, making it easier and faster to combine, shape, and clean data for analysis within Tableau. By providing a visual and direct path to prep your data, you can get your hands on quality data in just a few clicks.
In this course, you learn how to connect to data on-premises or in the cloud, whether it's a database or a spreadsheet, and how to access, combine, and clean disparate data without writing code.
Subjects Covered
Introduction
What is Tableau Prep?
Tableau User Roles
Installing Tableau Prep
Tableau Prep Workspace
Visual Dictionary
Connecting to Data
Basics of Data Preparation
Connecting to Data
Data Connection Types
Wildcard Unions
Input Cleaning
Text Configuration
Data Sampling
Refreshing Data
Examining & Filtering
Data Types & Sizes
Value Distribution
Finding Fields & Values
Sorting & Moving Profile Cards
Highlighting
Filtering Methods
Operations & Calculations
Value & Field Operations
Clean Step Layouts
Value Operations

Clean
Manual Grouping
Automatic Grouping
Split Values
Edit
Convert Dates
Field Types
Data Roles
Cleaning

Calculated Fields
Level of Detail Calculations
Analytic Calculations
Combining & Pivoting
Sharing & Updating
Saving Flows
Creating Local Extracts
Saving to External Databases
Creating Published Data Sources
Recap: Creating Data Flows
The Input Step
The Profile Pane
The Cleaning Step
Group & Replace
The Output Step
The Pivot Step & Calculated Fields
The Aggregate Step
The Union Step
The Join Step
Prerequisites
Before Taking this Class
None.
Setup Requirements
Software/Setup For this Class
Tableau Prep
Onsite Training
Do you have five (5) or more people needing this class and want us to deliver it at your location?