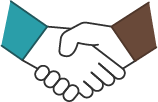 Conflict Resolution Training
1 day (10:00 AM - 5:00 PM Eastern)
$375.00
No open dates. Contact us to schedule.
Details
Subjects Covered
Prerequisites
Setup Requirements
Details
Course Details
This intensive one-day course comprehensively explores conflict resolution strategies rooted in cutting-edge theory and real-world applicability. The course is designed to help participants navigate and resolve conflicts effectively in a diverse and fast-paced business environment. It offers an in-depth understanding of the nature and types of conflict, the psychology underlying conflicts, and various conflict management styles. The course further emphasizes practical skills, including effective communication techniques, negotiation and mediation skills, and creating a proactive conflict resolution culture. Participants will emerge with a personalized action plan for managing and resolving conflicts, equipped with tools and strategies to promote a harmonious work environment.
Subjects Covered
Understanding Conflict

Definition and Nature of Conflict
Types of Conflicts: Intrapersonal, Interpersonal, Intragroup, Intergroup
Sources of Conflict in the Workplace
Impact of Conflict on Productivity and Employee Morale
Recent Trends in Workplace Conflict, including Online and Hybrid Conflicts

Assessing Conflict

Models and Tools for Assessing Conflict
Identifying Root Causes
Assessing Conflict Dynamics and Stages
Determining Conflict Readiness

The Psychology of Conflict

Perception, Emotions, and Bias
Cognitive Dissonance Theory
Transactional Analysis and Ego States
Personality Types
Stress Management Techniques

Ethical Considerations in Conflict

Ethical Dilemmas
Fairness and Equity
Corporate Ethics

Conflict Styles and Strategies

Thomas-Kilmann Conflict Mode Instrument
Choosing Appropriate Conflict Management Styles
Proactive Conflict Management
Applying Game Theory
Adaptive Conflict Management

Communication Skills

Active Listening
Assertive Communication
Emotional Intelligence
Non-verbal Communication
Apology and Forgiveness
Digital Communication

Negotiation and Mediation

Principles of Win-Win Negotiation
Role of Mediation
The Harvard Method of Principled Negotiation
Cross-Cultural Strategies
Technology in Mediation
Negotiation Exercises and Roleplays

Building a Conflict Resolution Culture

Promoting Positive Workplace Environments
Conflict Prevention Strategies
Building and Maintaining Trust
Leveraging Diversity and Inclusion
Conflict Resolution Policies
Early Warning Systems
Organizational Culture

Managing Conflict Virtually

Strategies for Virtual and Distance Conflict Resolution
Technology for Collaboration Across Distances

Post-Conflict Relationships

Maintaining Healthy Relationships
Rebuilding Trust
Constructive Feedback

Reflection and Action Planning

Personal Reflections and Learning
Individual Action Plans
Follow-up Mechanisms
Sharing Plans and Peer Feedback
Prerequisites
Before Taking this Class
None
Setup Requirements
Software/Setup For this Class
None
Onsite Training
Do you have five (5) or more people needing this class and want us to deliver it at your location?