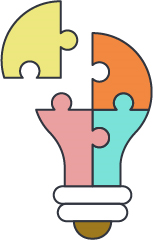 Problem Solving Training
2 days (10:00 AM - 5:00 PM Eastern)
$750.00
No open dates. Contact us to schedule.
Details
Subjects Covered
Prerequisites
Setup Requirements
Details
Course Details
In this course, you will learn to navigate the intricate problem-solving landscape. This course will first help you understand the essence of problems, differentiate them from mere symptoms, and overcome fears associated with acknowledging problems.
Our course revolves around a strategic six-step problem-solving process. You'll learn to accurately define the problem, utilizing eight different techniques, and craft a concise, effective problem statement using the 5W2H method. The journey continues with an exploration of root cause analysis, using practical tools like Affinity Diagrams, Stakeholder Interviews, Field Studies, Empathy Maps, Personas, the 5 Whys, Pareto Analysis, Fishbone Diagrams, and Journey Mapping.
Following problem identification and root cause analysis, the course will guide you into the realm of ideation. Here, you will develop alternative solutions using techniques such as mind mapping, brainstorming, "How Might We" questions, SCAMPER, the 2 x 2 Matrix, and Bono's Hats. Upon generating potential solutions, you'll learn to evaluate and select the most effective ones, considering pros and cons, performing cost/benefit analyses, and utilizing decision matrices.
Finally, the course culminates with implementing your chosen solution. You'll formulate a detailed implementation plan, identify potential challenges, strategize countermeasures, and evaluate the outcome. The course wraps up with a follow-up analysis to ensure the problem has been effectively resolved.
Sign up for our problem-solving course today to unlock your ability to tackle complex issues, generate innovative solutions, and implement effective strategies, all while fostering your professional growth.
Subjects Covered
Understanding Problems

Problem vs. Symptom
Past, Present, and Future Problems
Fear of Legitimizing Problems
Problem-Solving Process

Identify (Define) the Problem

Discuss the Six-Step Problem-Solving Process
Learn to Identify (Define) a Problem
Eight Ways to Identify a Problem
What is a Problem Statement?
Key Elements of a Problem Statement
Using the 5W2H Method

Determine the Root Cause

Root Cause Analysis
Identify Stakeholders
Using an Affinity Diagram
Stakeholder Interviews
Field Studies
Empathy Maps
Personas
The 5 Whys
Pareto Analysis
Fishbone Diagrams
Journey Mapping
Sweet Spot for Innovation

Develop Alternate Solutions

What is Ideation?
Managing Creative Flow
Mind Mapping
Brainstorming
How Might We
SCAMPER
2 x 2 Matrix
Bono's Hats

Select a Solution

Evaluating and Selecting Solutions
Pros and Cons
Cost/Benefit Analysis
Decision Matrix

Implement a Solution

Developing an Implementation Plan
Potential Challenges and Strategies

Evaluate the Outcome
Prerequisites
Before Taking this Class
None
Setup Requirements
Software/Setup For this Class
None
Onsite Training
Do you have five (5) or more people needing this class and want us to deliver it at your location?