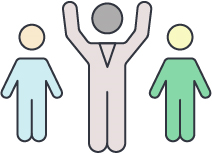 Management Fundamentals Training
2 days (10:00 AM - 5:00 PM Eastern)
$750.00
Register for a live online class.
Details
Subjects Covered
Prerequisites
Setup Requirements
Details
Course Details
Step up your managerial skills with this meticulously designed course that imparts practical knowledge in key areas such as successful one-on-one meetings, effective feedback delivery, strategic goal setting, task delegation, and facilitating enriching career conversations.
Join us in this transformative journey to become a leader who inspires, motivates, and propels your team toward excellence.
Subjects Covered
Successful One-on-One Meetings

Time
Context and Agenda
Discussion Points
Presence
Gratitude
Problem-Solving
Questions
Challenges and Consequences
Dos and Don'ts

Feedback: A Two-Way Street

Four Easy Steps
Purpose
Information
Mindset
Gender Politics, Culture, Language, and Other "Hot" Potatoes
Environment
Performance vs. Personal Traits
Career Conversations
Action Plan
Follow-up
Dos and Don'ts

Goal Setting: A Science and Art

Goal Setting

Law of Momentum
Law of Inertia
Law of Probability

Elimination Process
Upper and Lower Bounds
Goal Alignment
SMART Goals
Goal Measurement
Recognition and Rewards
Dos and Don'ts

Delegating Effectively

Why Not?
Why?

Context
Commitment
Engagement Levels
The Art of Selection

Responsibility for Outcomes
The Delegator's Dozen

Attitude
Outcome
Target
Input
Assign and Define
Training and Guidance
Authority and Enablement
Control Process
Monitor
Feedback
Lessons Learned
Evaluation

Dos and Don'ts

Unlock the Career Conversation

Four Career Conversations that Backfire
Formal vs. Informal
The Process

Probing
Focusing
Planning

The SPUR Framework
The Career Action Plan

Role Development
Network Enhancement
Immediacy
Network

Nurturing a Culture of Career
Dos and Don'ts
Prerequisites
Before Taking this Class
None
Setup Requirements
Software/Setup For this Class
None
Onsite Training
Do you have five (5) or more people needing this class and want us to deliver it at your location?