Grammar Training Courses
Logical Imagination offers grammar training via our live, instructor-led online classes or as onsite classes at your location.
If you communicate by composing a letter, memo, report, or email, you will benefit from our grammar courses. These lively and informative sessions demystify the rules and provide practical experience to reinforce learning and build confidence with improved usage.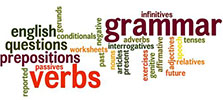 What courses are available?
If you need customized content or another version of one of these courses, please contact us.